Hot tips to get your gel polish lasting longer this summer
by Lucy Williams – Studio 8 Beauty Therapist.
SUMMER TIME … IS GEL TIME !
It's that time of year when we all enjoy getting out in the sun and having fun with loved ones.
We are all getting summer ready with our gel polish manicures and pedicures but would rather spend time having fun than waiting for nail polish to dry …. enter gel polish.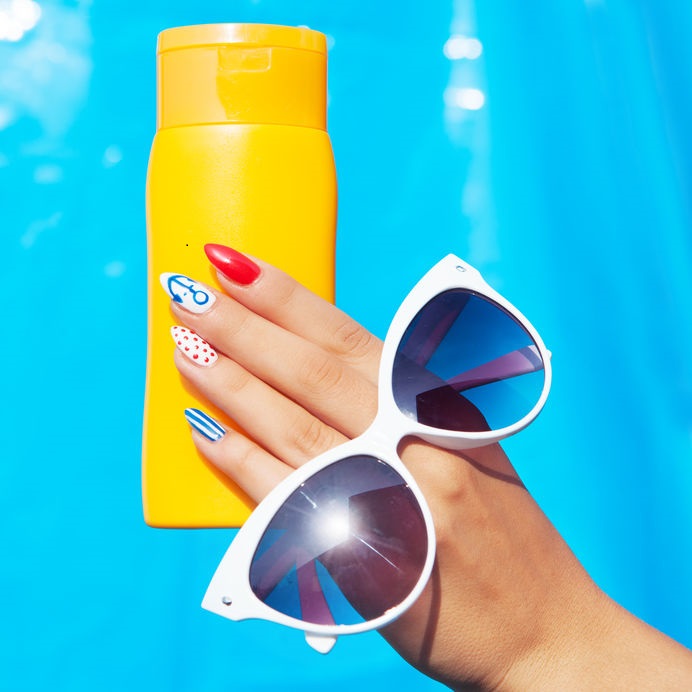 What is gel polish ?
Gel polish, is a soft coloured gel that dries under LED or UV light. It is immediately dry, smudge and chip free and lasts up to 2 weeks. That means no more smudging as soon as you leave the salon and you are ready to get on with your day!
How long should a gel polish ideally last for ?
This all depends on the individual and how you treat your nails. Ideally, you should expect them to last 7 to 14 days. For some lucky and careful clients, even 3 weeks, but do expect growth at the cuticle. At Studio 8 Beauty, we only use specially selected quality products that have been tried and tested by our staff. This is to ensure that we are giving the best gel polish nail treatment service and provide value for money.
All the therapists at Studio 8 beauty wear their gel polish 2 – 3 weeks without any problems. This is despite frequent washing of hands and needing to wear nitrile gloves for prolonged periods of time, so we know these babies can stand the test of time with the correct care.
From time to time there will be a client that cannot wear gels for more than a week. This is because their nails are naturally too oily. This isn't down to a faulty application or an inferior product, just the individuals nails. It is however smudge and chip free for a longer period than traditional nail polish. So for a special occasion, it's still a fantastic treatment.
But once we have had it done how do we get the best out or our gels and stop them lifting and chipping ?
How can I help my gel manicure last longer ?
Here's a list of helpful tips that will insure your gel polish lasts and you get the best out of your gels:
Before your manicure / pedicure, try and avoid emerging your hands / feet in hot soppy water. Over hydration of nails can lift polish.
Push back your cuticles. If you don't have time for a full manicure and just want a file and polish, pushing back the cuticles will stop the polish lifting. If your cuticles are out of control and need more work, the nail technician will likely insist on a full manicure. Otherwise the application will probably not last very long.
Avoid hot water, especially for the first few hours after application, as heat can lift gel.
Never cut or file the end of the gel nails. This will allow water and products to soak under the nail and lift the gel nail polish as it breaks the bonded wrap at the free edge of the nail.
Always use hand creams after washing hands and then apply cuticle oil all around to keep nails hydrated and avoid cracking and chipping. It is important to make sure that your cuticle cream is lanolin and mineral oil free. Avoid HAND CREAMS AND SKINCARE PRODUCTS that contain lanolin, mineral oil as these melt the bond and lift the gel.
Check out your facial products and see if they contain retinol. Retinol can be found in a number of anti-ageing and problem skin creams and can be the culprit behind lifting gel polish.
Deet, which is an ingredient usually found in insect repellent can lift gels, so avoid.
Low quality hair shampoos and conditioners often contain mineral oils & cheap ingredients that can lift gel polish.
Wear gloves when cleaning as some products as mentioned above lift the gel. Bleach especially, can destroy the bond on gel polish.
HOT TIP – Using a glitter top coat adds longevity to your gel polish.
If you do get peeling, apply a normal top coat to the nail and edges to seal until you can get them safely removed at a salon. DO NOT EVER PEEL THEM …. peeling removes two layers of your nail, leaving them thinner, weaker and uneven. This Puts them at risk of stress splits and white spots (trauma to nails).
Peeling gel polish and post acrylic nails tend to not last as long as healthy nails.
Short and bitten nails do not last as long. If there is no free edge to wrap the gel manicure products under, water will get underneath and lift the nails.
Swimming pool chlorine is similar to bleach and prolonged exposure will impact the gel polish longevity.
Always use scissors to open post / parcels – nails are not tools and you will chip the nails.
Decorating and gardening can also be heavy work on nails at the best of times and even more so on gel polish. Chores such as digging and even painting without gloves will inevitably chip or dissolve gel polish. This will allow water to get between the gel polish and natural nail and ultimately lift the gel polish.
I hope you find these tips useful in enabling you to get the most from your gel nails.
We look forward to seeing you soon for that well deserved manicure and or pedicure.
To book your flawless gel manicure or gel pedicure, please call Studio 8 Beauty on 02392 380 692 or click here to go to our treatment booking portal where where you can book your treatment online.