Home Tanning Guide for Fantastic Results
By Thea Leonard – Studio 8 Therapist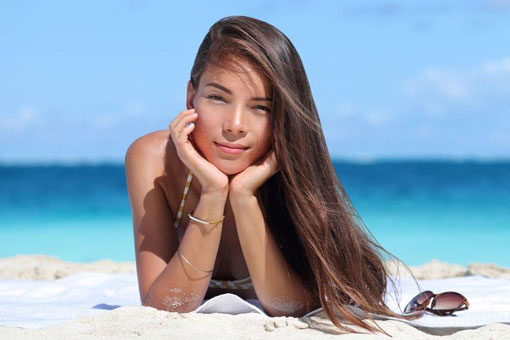 A natural-looking self-tan doesn't just make you look great on the outside but it also makes your inner confidence glow too.
But … are you scared of home tanning?
Fear no more as we asked Thea at Studio 8 Beauty to share her personal experience of home tanning and to share some of her tips for a flawless tan this summer and all year round!
What home tanning range do you use ?
I swear by the Sienna X tanning range, both for a professional in-salon treatment and a gorgeous natural bronzed skin at home. I use Sienna X every week at home.
Gone are the days where "streaky" even needs to be mentioned in the same sentence, as these tanning products go on smoothly and evenly.
Should I prepare for a self-tan?
Absolutely, yes. Preparation is one of the most important parts for achieving a patch free home tan.
What is the best way to prepare for home tanning?
I highly recommend using a good pH balanced body wash and a body scrub to ensure dry areas of skin are smoothed and your skin is hydrated. These formulas are designed to be kind to your skin without leaving oils behind which could cause uneven tanning.
I also highly recommend continuing these products after your home tan is developed to prolong your tan.
I just love these 2 Sienna X products;
Sienna X pH Balance Face & Body Wash
Sienna X Polishing Body Scrub
Next step is to use a primer for your home tanning routine
Self Tan Primers – what are they and do I need one?
Primers are a new concept in home tanning. They are more than moisturisers and are one of the most essential steps to ensuring a perfect and flawless tan. They help to reduce any tell-tell signs of a self-tan by ensuring problematic areas are well prepped.
TRY Sienna X Perfect Self Tan primer
How do I apply a self-tan primer?
Apply a small amount of Primer to the hands, feet, heels, elbows, knees and any other dry patches you may have on your skin. Another great tip is to apply to the hairline, brows, ears and around the cuticles.
Now you are prepared to tan !!
What products should I choose?
There are so many self-tanning products to choose from and it depends on:
How much time do you have.
What colour do you want.
Ease of use.
Fast Tans
Pushed for time or don't like the idea of sleeping in your tan ? Then pick a tan from the 1 hour range. Apply the product wait an hour then wash off!
Sienna X Express Tans are the perfect option if you're in a hurry or don't want to sleep in a guide colour. Simply apply and wash off after 1 to 3 hours depending on how deep you want your tan to be.
The Sienna X express tanning range enables you to create a flawless, natural-looking tan in only just 1 hour with products that are available in a lotion, mist or mousse. Meaning you can get on with your day
Relaxing Home Tans
If you are happy having the tan on your skin for 8 hours and don't mind s guide colour then pick the Sienna X Sleep tinted self tan lotion. There is even a mist and a mousse in the range depending on what type of product you prefer. They are all applied in the same way and best applied with a tanning mitt to buff out and spread the product evenly.
However, if you are still really scared of using tan or worrying about how dark you'll be or just want a super subtle look, try gradual glow then try the Gradual Untinted Self Tan Lotion
This product applies like a moisturiser and is colourless, so great if you have plans to be out and about during the 8 development time, over 8 hours you will see a very subtle colour develop. You can even apply this product over a couple of days to gradually build the colour or you may use it once and be delighted with the colour depth for your skin.
It's a great time to relax as you also don't want clothes rubbing, as this can remove areas of tan. Loose dark clothing and flip flops are best, or pyjamas if you're going to sleep. I have my "tanning onesie".
Remember when your tan is developing don't get the skin wet with water or by getting too hot & sweaty.
Wearing gloves is absolutely essential, don't even think about tanning without some latex free rubber gloves, well unless you're going for the orange palm look ! A tanning mitt is a perfect accessory for home tanning but put the gloves on underneath.
What about hands?
I personally leave my hands, feet and face until last.
Pump a few squirts into gloved hands and massage fairly quickly into each body part, think about how your body tans naturally in the sun, I don't apply loads of tan to the underside of my arms or underarms to give a more natural look.
Massage the tan up from the hands or feet, not down as this will gather more product at these tell tell areas. Once I've done my whole body I then apply an extremely small amount to my hands, feet and face. You do not need to apply a lot in these areas as they will always grab more colour.
Once finished applying, I apply Radiance body balm to my palms and rub firmly on a towel to ensure I don't end up with brown palms. Use a tissue to wipe over nails, cuticles and brows then gently dappling the hairline, ears, ankles and wrists.
Times up
Now it's time to shower off. Run the water over your body until the water runs clear and then use a small about of ph balance wash. Gently dry the skin and apply radiance body balm, you'll notice a beautiful shimmer to this product. Ta-da beautiful flawless tan!
What if it goes wrong ?
Don't worry, this is unlikely but if there are some areas that you're not quite happy with then there is a saviour … NEW Sienna X Eraser, just apply onto the mitt provided and remove your hiccup.
Do I need to apply SPF?
Yes! Please remember self-tan is a fantastic way of faking a tan, but it offers ZERO protection against the suns UVA / UVB rays, so make sure you're still applying SPF regularly. You can still tan and burn with self-tan on.
Why are some people patchy?
This is usually because people have skipped the important "prep" part. This can also happen with people who tan regularly but are reapplying and skipping prep. Every time you tan PREP, PREP, PREP, hear me ! To keep your tan even and glowing use Radiance body balm every day. Your tan will last about 5 to 7 days.
Where can I buy Sienna X?
Sienna X is available in Salon including Studio 8 Beauty as well as online and in some retailers.
https://sienna-x.co.uk/product-category/fake-tan-at-home/self-tan-lotion/
We hold a full range of Sienna X product in salon perfect for picking up on your next visit.
Happy home tanning !
Sienna X has some great tanning guides on Youtube:
https://www.youtube.com/user/siennaxofficial/videos
What if you just can't be bothered to home tan?
Still unsure or fancy some pamper time ?
Book in for a manual tan with exfoliation. You then get to lay on the massage couch for an hour and relax whilst your Therapist does it all for you.
To book a manual tan with Thea or one of our other therapists please call Studio 8 Beauty on 02392 380 692 or click here to go to our treatment booking portal.