Stress Positive Eye Lift
By Thea Leonard – Studio 8 Beauty
Why I love Stress Positive Eye Lift by Dermalogica
I just wanted to share with you all, one of my favourite products … Stress Positive Eye Lift by Dermalogica.
I am totally in love with this product since it launched last year.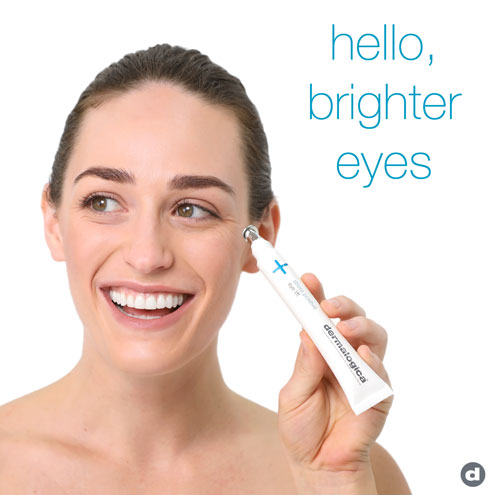 Stress Positive Eye Lift is a super energising, brightening, de-puffing, de-stressing, cooling, hydrating and lifting gel-cream mask for the eyes. WOW !
It contains 3 main ingredients that deliver these results. These are, Tephrosia Purpurea (Wild Indigo) Seed Extract, Maris Aqua (Sea Water) Extract and Hydrolyzed Algin (Artic Algae). This product literally does what it says on the tube and is my go to eye cream.
When to use it
It can be used in the morning or evening as part of your everyday skin regime. Personally I like both. Sometimes I will use it in the morning, sometimes in the evening. When you use it, is entirely up to you. You can use it to wake your eyes up in the morning to get you looking bright eyed and bushy tailed ready to take on the day. Alternatively you can relax in the bath and give yourself a DIY eye massage with the cooling applicator to de-stress those tired eyes.
You should aim to use this product 3 times a week.
The skin around our eyes is one of the most delicate areas, so make sure you're looking after it. Remember to be gentle and always remove makeup. Soothing eye makeup remover if fantastic. Stress can show very quickly on the skin around our eyes. This can cause us to look tired and aged but by using Stress positive you can really achieve a lift to the eye area.
If you are looking for a salon treatment that would complement this product really well, why not try:
Great Results
Many of my clients are achieving excellent results by combining home care with a range of traditional and advanced professional treatments.
So if that sounds like just what you are looking for and if you are interested in starting a Skincare Journey with me, Thea Leonard, I highly recommend calling to book a FREE Skin Consultation to discuss your skin concerns and treatment options combined with our Dermalogica Skin Health Facial to kick start your best skin ever!
You will receive great skin results, relaxation and skincare education from myself Thea Leonard at Studio 8 Beauty.
Thea Leonard is an Dermalogica Expert Skincare & Advanced Aesthetic Therapist at Studio 8 Beauty.
To book a Treatment or Consultation please call Studio 8 Beauty on 02392 380 692 or click here to go to our treatment booking portal.